User
Rank

Commodore

Posts

1789

Joined

Sat Nov 01, 2014 6:19 pm

Location

MITH Menzel 3
User
Rank

2nd Lieutenant

Posts

65

Joined

Sat Nov 14, 2015 8:40 pm
I inspected 2 sectors and working on a third. I updated the sheet accordingly.
Nothing much there I'm afraid
Senator for Gilead and Amber
Hope is the hand that guided me. Secured by the hand that set me free.
User
Rank

Captain

Posts

959

Joined

Thu Sep 22, 2016 6:36 am
JULIA gated through Keystone has 4 agro.
Here is the soil sample: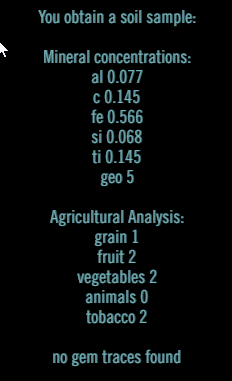 It is 120 LY from Apollo.
This is what would be required to build a direct gate:

Since it is already gated, not sure if this is too far out. It might not be if we made it another hub. I will keep searching but would like to hear what others think about this.
"The UNCA is not your boss!" ~ Jessica Steele
Fan Fiction from an old timer -
RAM Memories
User
Rank

2nd Lieutenant

Posts

65

Joined

Tue Aug 29, 2017 2:26 am
Think it depends on if you really like the planet. We just completed the Flavos Highway project and it required about 2.3B iron, 320M carbon, and about 2,000 of each WG's and PC's. The project took several months but the completion of it shows it was doable. So I would say if you really like the planet and want to build the gate then we could do it. The question is are you very happy with the planet or is it just a good potential one and we should continue the search. From my searches, I have never found a planet as good as the one you have targeted, so I would be fine with it, but others may have better ideas.
Who is online
Users browsing this forum: No registered users and 3 guests