User
Rank

Captain

Posts

790

Joined

Thu Sep 22, 2016 6:36 am
Since the start of this feature, it has been bugged. We are not able to get the OSB hospital rating to go up.

I found out recently that the Colony and OSB Overview show the Medical Exports of colonies and Medical Imports of OSB. I have ships traveling between RAMpark and RAMcloud in Miners Paradise. They all have passenger space. I am showing NO Medical Exports from this colony. I have Medical Imports to RAMcloud OSB, but from a "Autobot Reclouse" colony that I can not find anywhere. It is showing nothing from RAMpark that has several NPC ships traveling between the two.

I checked with Bozack and fleas. They traveled to some of their colonies and OSB and found similar results. I asked them to post the names and their findings here too.

I have ships traveling between RAMmine and RAMvault in Carbomite. I can find an export and import for each in their overview. I also find import from Autobot Reclouse in that RAMvault OSB. I built a new hospital in RAMmine and the export and import did not change between the two. I may be maxed out in passengers space between the two. I have no way of checking what I have in each NPC ship once I send them off.
User
Rank

Commander

Posts

339

Joined

Wed May 13, 2015 6:21 pm
Hi all...o/

I have visited all of my osbs/cols to see if there are any with medical imports/exports showing...none so far. I have 5 npcs(2 ships with pqs, 4 ships w/o pqs) flying a route between aardvark trading 10 and fleabase 14 in what used to be Alexas Corridor.

Fleas
gotpurplefleas
Senator of Food Court
User
Rank

Commodore

Posts

1380

Joined

Tue Mar 17, 2015 8:40 pm

Location

UK
Despite PQ npc's between some of mine, I cannot even see "Medical Imports" in overview.
FG Fighters Guild
Founder
Senator of Ferrite-Senator of Prime-Senator of Barons Rest-
Hater of rams speaking date stamp
User
Rank

Commodore

Posts

1683

Joined

Sat Nov 01, 2014 6:19 pm

Location

MITH Menzel 3
Initial check of y colony and OSBs in Miners Paradise indicate that:
My colony (MID Tyngbraneth) has no Medical Imports nor any Medical Exports of any kind.
My OSB (MIB Tyngbraneth) has Meical Imports from: Tombstone, Babel, RAMville, WulfWillow, WulfsFolly and Fra. I am not sending NPC ships to any of these places and afik no NPCs from these places are trading with me.
My OSBs MIB Sunray Alpha and MIB Sunray Bravo both have Medical Imports from Fra
I thought that at 65% my Healthare had improved at my OSBS, but I could be mistaken. I have Beer and Wine and Basic Meds available for my colonists, but no Cigars, Tobacco or Stims.
User
Rank

Captain

Posts

790

Joined

Thu Sep 22, 2016 6:36 am
For some reason, my RAMcloud OSB in Miners Paradise updated.
I am still not importing from the right colonies, but I do have 60% hospital.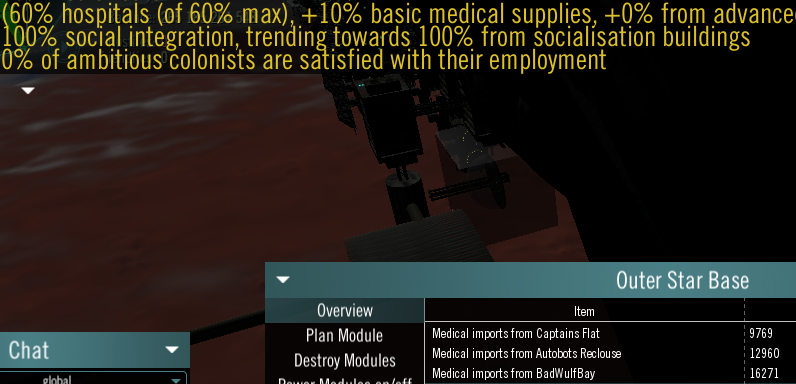 All three of the imports are coming from other player colonies and none if the ships that are traveling to my colonies and this OSB are showing.
Captains Flat is MrPC
BadWulfBay is Wulfhound
I have no idea who is the other.
User
Rank

Captain

Posts

790

Joined

Thu Sep 22, 2016 6:36 am
Here is RAMair in New Dawn.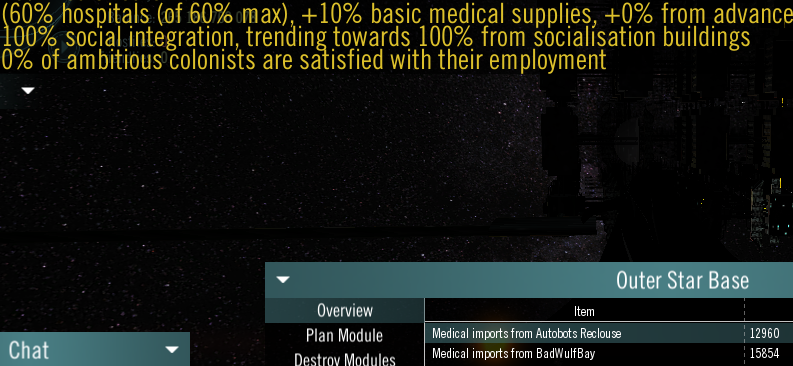 User
Rank

Captain

Posts

790

Joined

Thu Sep 22, 2016 6:36 am
Here is RAMbase in Prime.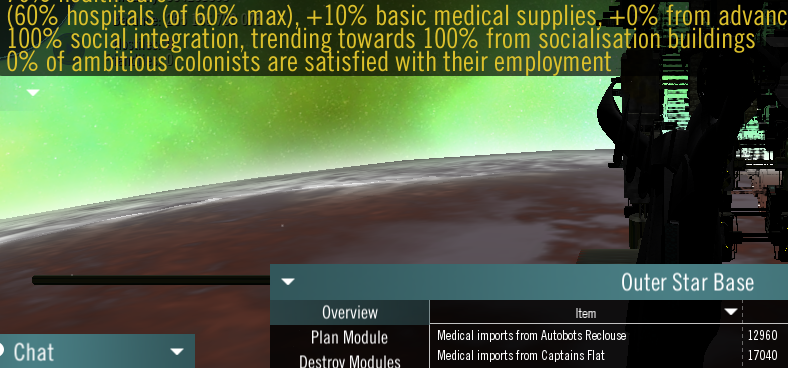 Again, neither of these colonies are mine and I have no knowledge of them sending ships to it. I would doubt it since mine is not the best price out there.
User
Rank

Commander

Posts

551

Joined

Thu Oct 16, 2014 5:46 am

Location

USA, Pa
I have built a massive transport ship outfitted for people rather than cargo and set it to trade between my colony and my OSB overhead. It seems to be working right once I build more hospitals. Not sure if there is a set amount needed to have medical exports. It might be that if you are using all your hospital space you can't export medical. I built enough for both my colony and OSB and then committed a few ships to move people. The NPCs really don't trade anything just move people.
Owner of BSFA

(Bosh Survey & Freightage Authority)
Senator of Logopolis, New Dawn, Babylon
Governor of Poosh, Tigland, Prime Sun, Babel
Mayor of all BSFA Colonies & OSBs
User
Rank

2nd Lieutenant

Posts

42

Joined

Sat Oct 15, 2016 3:49 pm
Autobots reclouse is in new dawn iirc. I shop there sometimes.

I personally cannot see medical exports or imports, nor any improvement to osb morale, even though I have many npc ships with pq's plying the spacelines between my colonies and osb's. I do not have excess hospitals but I do have more than enough for my population. Might I suggest that the game doesn't see it as an import if its one of your own npc's? maybe you guys should try sending your npc's with pq's to a friends osb and see if it shows up?
User
Rank

Commodore

Posts

1380

Joined

Tue Mar 17, 2015 8:40 pm

Location

UK
Any further updates from players on this?
FG Fighters Guild
Founder
Senator of Ferrite-Senator of Prime-Senator of Barons Rest-
Hater of rams speaking date stamp
Who is online
Users browsing this forum: Bing [Bot] and 3 guests