User
Rank

Captain

Posts

1217

Joined

Thu Sep 22, 2016 6:36 am
Here is some of the concept and plans for the new Crew Missions we can start doing.
<jam> the idea is, I'll expand it so you can assign a bunch of these missions at abandoned colonies
<jam> which are a HUGE under-utilised gameplay resource in ascent
<jam> that we always intended to do more worth
<jam> so you could stabilise them, de-stabilise them, influence voting, setup criminal networks or dismantle them, do the same with espionage etc etc
<jam> the system is crazily expandable
<jam> I just define more mission and extend the code to handle the new parameters
<RAM_> SO how would I send a NPC there to stabilize it?
<jam> and each player can have a status with each colony currently... so everyone in the game could all try to set up an intelligence network on the same colony
<jam> you'd fly there with them as your crew
<jam> but if it's basically a failed state you will need to start with ground troops
<RAM_> So we would capture the colony?
<RAM_> Then gain control?
<jam> not control, a measure of influence
<jam> ground combat missions would slowly increase stability over time
<jam> and then other kinds of missions would open up
<jam> maybe not so slowly if you've got good troops or a lot of troops etc
<RAM_> So I will have to have a bunch of assault troops to send there?
<RAM_> Once sent, then they stay there?
<jam> no they'll be time limited missions like the education ones
<jam> but with multiple places
<jam> the education ones are single seat at the moment
<jam> I think for ground combat missions up to 20
<RAM_> SO the trained NPC will only be for colony and OSB interaction?
<jam> but might be smarter to stay with lower numbers
<jam> at first
<RAM_> Then the pilots are just pilots as we have them.
<jam> I think training them up as expert crew would be a good move down the track
<jam> and potentially ground troops could become space marines and stuff
<RAM_> And this lets us influence an abandoned colony to do what?
<jam> vote your way... let you steal tech (from the system), set up smuggling networks, etc etc
<RAM_> This is like a totally new game within the game.
Hope that helps give an overview to what is to come.
User
Rank

Captain

Posts

1217

Joined

Thu Sep 22, 2016 6:36 am
Here is one result of Engineering 101 training: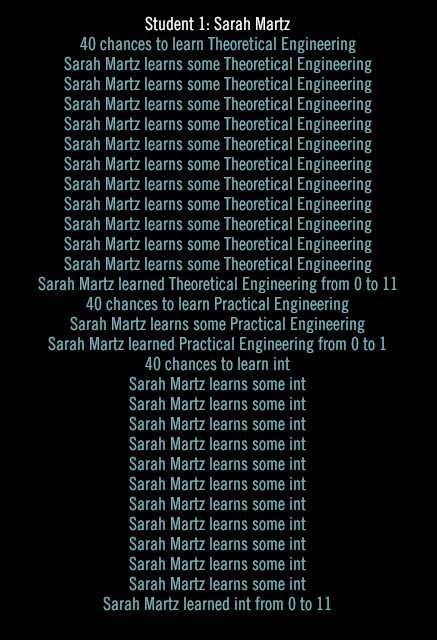 User
Rank

Captain

Posts

1217

Joined

Thu Sep 22, 2016 6:36 am
Here is a sheet from one of my crew after training was completed.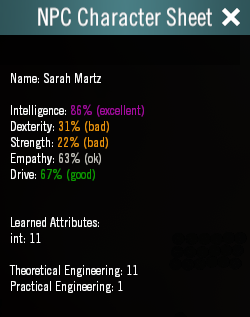 User
Rank

Captain

Posts

1217

Joined

Thu Sep 22, 2016 6:36 am
3 new Palace attachments. Must be placed adjacent to an existing palace.

Medical, Intelligence, and Military. All three can be purchased at Deep 6.
Who is online
Users browsing this forum: No registered users and 3 guests