User
Rank

Commodore

Posts

1344

Joined

Thu Sep 22, 2016 6:36 am
A series of missions have been added for your NPC crew. You can now send crew on missions away from your ship.
At one of your colonies or any other player's colony, new missions can now appear under your "ship and crew management" tab.
Crew sent on missions can develop their skills and attributes. Some missions are designed specifically to develop NPC skills and attributes, while others can have a lasting impact on the colony.
Education missions train skills and attributes.
Ground Combat Patrols can increase the political stability of a colony that has lapsed
Intelligence missions can establish or expand your Intelligence Networks, which can aid in other missions
More of these missions are being unlocked every few days as we expand this feature, so keep an eye out for them. New missions will be in these categories, and new categories will be added soon:
Propaganda missions (can influence voting)
Destabilisation missions (can reduce stability which is desired for criminal enterprise missions)
Criminal enterprise missions. These both increase criminal activity and will return crime-based rewards
Policing missions (can reduce criminal activity)
User
Rank

Commodore

Posts

1892

Joined

Sat Nov 01, 2014 6:19 pm

Location

MITH Menzel 3
So I sent a squad of NPCs on a Stabilisation Mission. Below is the Mission Log:
You notice that the Leader, Peter Norris, gets some experience in Ground Combat Tactics and gets Level 1 in that skill. Then manages to avoid an ambush. Later, he get intel and successfully leads the squad in an attack on an enemy position. He gains more experience in Ground Combat Tactics, but does not get a level increase to Level 2 but stays at Level 1.
Is this correct? Or has the fact that he already had achieved Level 1 been 'forgotten'. This maybe the case as the only Level 2 skill achieved on this mission went to NPCs who achieved two learning experiences at the same time.
I have since sent this squad on a new Stabilisation Mission, so we may see if their skills levels are 'forgotten' between missions.
BTW, loving these missions, though it would be nice to know which of my colonies/OSB is being destabilised, have some indication of the Stabilisation Level of all my colonies/OSBs and know how I can prevent a colony/OSB becoming unstable in the first place. I would have thought Morale would be an indication of colony stabilisation and all my colonies/OSBs have as good a morale as I can get them, given the limitations on OSB morale presently. So, I'm not at all happy that my any of my colonies/OSBs can become unstable.
User
Rank

Commodore

Posts

1892

Joined

Sat Nov 01, 2014 6:19 pm

Location

MITH Menzel 3
On a related subject, it seems that the educational missions are limited to one NPC. I have built all the Academies and was expecting to be able to send all my crew members on an educational mission simultaneously.

BTW FYI RAM, the Academies do not appear on the Colony Analyser.

EDIT:
It seems I can start multiple Stabilisation Missions. I have moved to an abandoned colony and was able to start a new Stabilisation Mission there and the option did not go away. So, it seems possible to send multiple squads to affect the Stabilisation of the same Abandoned OSB.

I now have three simultaneous Stabilisation Missions running. One at one of my OSBs and two at an Abandoned OSB.

Still cannot get multiple educational missions running. Hmmm...
User
Rank

Commodore

Posts

1344

Joined

Thu Sep 22, 2016 6:36 am
I am begging Jam for an NPC export feature. This would allow us to easily see that NPC are skilled at what and what routes they are on for those piloting.
User
Rank

Commodore

Posts

1892

Joined

Sat Nov 01, 2014 6:19 pm

Location

MITH Menzel 3
I now have the log of my First Squad's second mission. It makes interesting reading...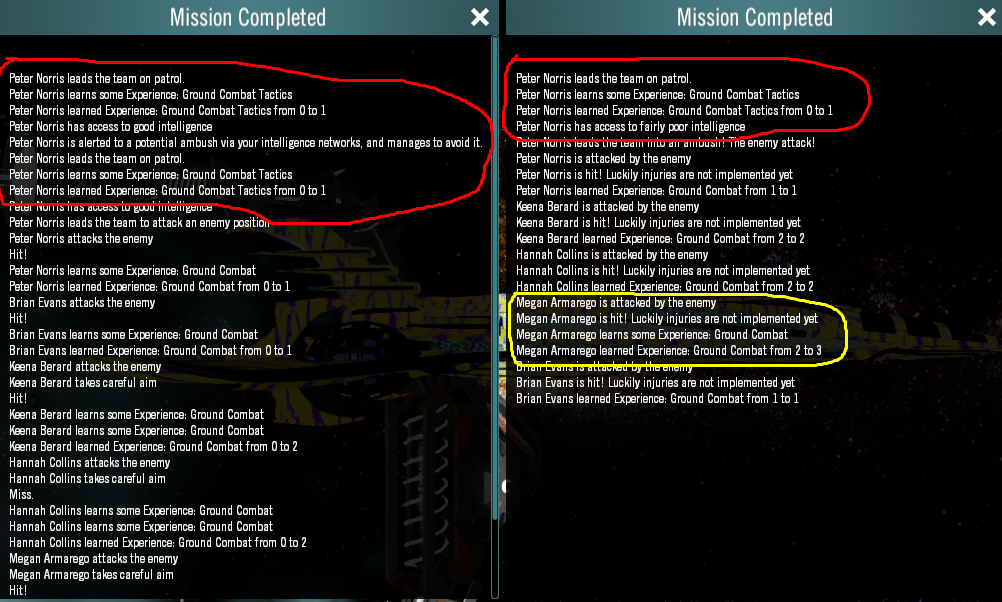 The log from Mission 1 is on the left and from Mission 2 on the right. Notice how Peter Norris' Ground Combat Tactics experience has not registered; he should now be Level 3. However, Megan Armarego's Ground Combat experience is correct; progressing from Level 2 to Level 3. Also, note that the log from Mission 2 seems to be incomplete; there is no statement of how stability was affected as a result of the Mission, unlike the log from Mission 1.
Part Log from Mission 3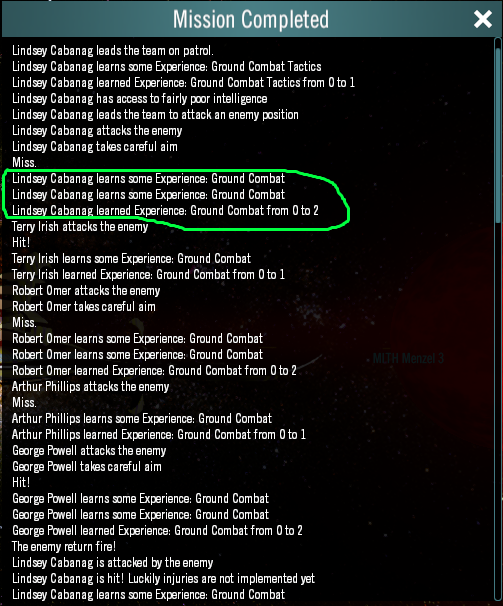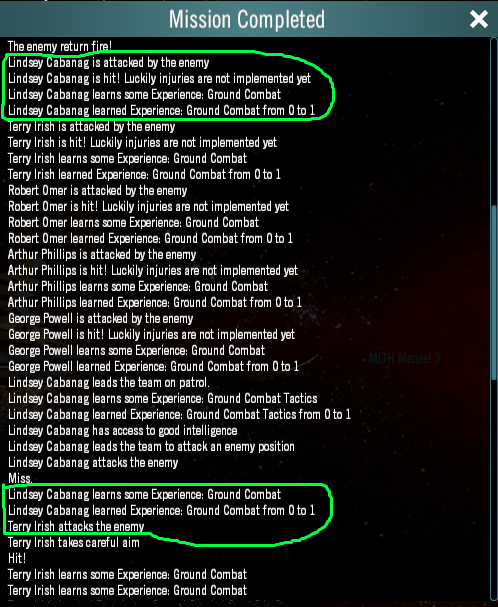 Now it gets really interesting. This is part of the log from Mission 3, using a new squad. Notice how none of the experience of any squad members is remembered from one action to the next.
Mission 4 Log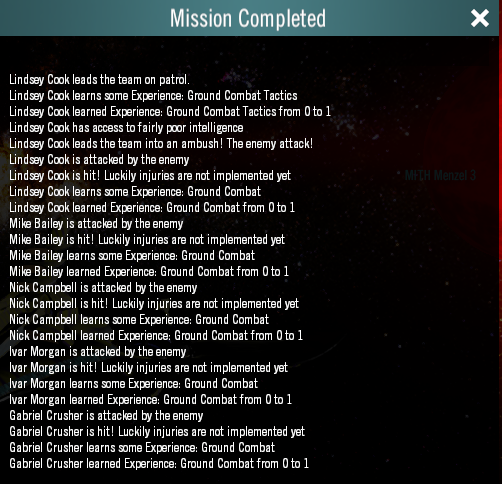 I ran a fourth Mission with another new squad and that report ended after the first action with no concluding message about stability either. This is very similar to the content of Mission 2's log.
It would be nice to have a file, like the Colony analyser file or the soil sample file so we can see NPC progress. Pilot info would be great, too. I am currently keeping records in a spreadsheet.
EDIT
Educational Missions no longer disappear from the list after the first crew member has been assigned to one.
User
Rank

Commodore

Posts

1892

Joined

Sat Nov 01, 2014 6:19 pm

Location

MITH Menzel 3
There is no check that personnel have been assigned to a mission before it starts. Therefore, it is possible to start a mission without any personnel being assigned.

EDIT
I somehow managed to get one NPC on two General Education courses at the same time. This should not have happened because once the mission has started the NPC's name disappears from the drop-down list. I guess, I some how managed to leave the window open and opened an identical window and, therefore, could start both missions with the same crew member.
User
Rank

Commodore

Posts

1344

Joined

Thu Sep 22, 2016 6:36 am
I had a good chat with Jam yesterday. We talked NPC engineers that will improve the Hyperdrive wear. He plans on implementing that down the road a bit, but really wants to expand the NPC crew system so we can have crew that improves ship function.

This means a ship engineer will reduce HD wear as their skill goes up. It will not eliminate it, but can greatly improve it.

Just wanted to pass on some fun stuff that is coming.
Who is online
Users browsing this forum: No registered users and 2 guests